IT'S SHOWTIME!
Jessica and Jeremy designed, built and hosted a Beetlejuice inspired Halloween engagement party. One way of making an engagement party special is by creating a theme or unique experience, and this one delivered on both! LOTS of details went into this Halloween environment!
Project Brief
Name: Beetlejuice Engagement Party
About us: We are a couple that loves Halloween and Beetlejuice is my (her) favorite movie. We are a fun couple that isn't afraid to do things differently.
What do we need?: A way to celebrate with our family and friends of our recent engagement. We want it to be casual so that everyone will feel comfortable chatting and getting to know each other better.
Why do we need it?: We want the bride's close family and friends and the groom's close family and friends to meet and celebrate!
Our vision for the project: On a tight budget maximize event décor and theme design. Create an event to die for!
OUR STRATEGY
We love planning events, spoiling our friends and overall, we're always looking for a reason to celebrate. So when my sister got engaged, we couldn't wait to throw her a party! I also love the movie and theme so this was a treat! We wanted to keep the costs manageable, so we got on our crafty hats and created all the large pieces (see below).
VISION BOARD
We hosted this party at our home, so we had lots of ability to mock-up ideas and try different designs to find the one that worked the best. We didn't know how the weather was going to hold out (it can snow here in Utah on Halloween or be in the high 70s) so we had to plan for an indoor party as well as an outdoor. We knew it was going to be all about the details!
DESIGN
The color palette was based on the movie and theme. The vibrant purple and green made all the décor pop and gave a splash of color for all the black and white striped backdrops.
BUILD
This is a DIY project! We build the large items that really created a theme vibe and used supplies that were bought at the Dollar Store and Home Depot. It took longer than planned to get them to the level of quality we wanted but in the end the long nights and weekends paid off.
Décor
We used white and black contrast against the pops of green and purple, this kept the event décor elevated and set the tone for an engagement party without making it to cartoonish or childlike.
TIME AND MONEY
From start to finish this project was complete in 27 days. The budget stayed manageable and especially for an engagement party, which can cost thousands dependent on venue. We saved money by hosting it at our home and lots of DIY projects. See the bottom of this post for a break-down of costs.
It looks amazing! Fun theme!!!
Elegance with a touch of goth.
FAN COMMENTs ON SOCIAL MEDIA
PRICING
Every project is different but to get an idea of what a project like this might cost here is our break-down:
Tablescape ~ $150
Entry ~ $350
Beetlejuice Sign & Outdoor ~ $250
Costumes
Although we did this as a gift for my sister, it would cost to hire out, on average from $60 to $80 per hour to or a total average cost of $700 to $1,000—not including decorations—for most parties.
MEET THE TEAM
Designer, BUILDER AND
"DELIA DEETZ"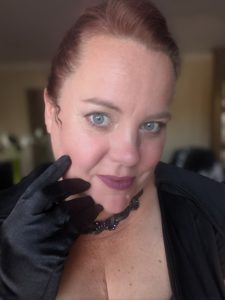 We specialize in the wow factor and that starts from when guests first arrive at the front door. We are here to meet all of you party needs! We plan celebrations for clientele that desire a fun and unique event but have very busy schedules. We have an obsession for going above and beyond to bring your vision for your event to reality. We create events that your guests will talk about for years!